Automation and innovative digital solutions increase service process efficiency in the financial sector
In a highly regulated operating environment, all services must run reliably and quickly. Samlink, a provider of IT solutions for the financial industry, uses Efecte to manage its service processes. Using Efecte's Virtual Coach AI solution makes troubleshooting faster and ensures high quality throughout the various tickets issued.
The company: Expertise in IT solutions and services in the financial sector
Samlink provides IT solutions for the financial industry. What comes across as a smooth and reliable experience to the banking service customers is the tip of the iceberg of Samlink's expertise under the hood. Samlink strives to ensure that the customer experience is consistent and of high quality in every channel.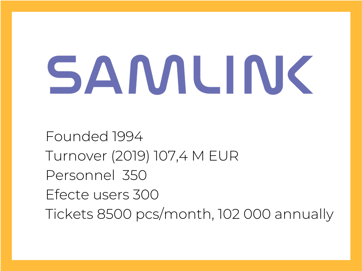 Samlink also continuously develops its automation services and utilizing RPA technology in the production of banking services. Automated routine processes and the use of intelligent robotics solutions increase efficiency. This improves the quality of services provided to the end customer even further.
The challenge: Regulatory compliance and quality on a high level
The regulatory framework for operations in the financial sector is complex and tight. The standard for due diligence requirements is set high to safeguard the assets of all clients and to ensure the legality of operations. At the same time, the end customers need to know that the service is secure and reliable, but also to have a good user experience.

For these reasons, it is important for Samlink's customers that all their service support requests are resolved in a timely manner. Getting assistance through different channels, depending on the situation, is also elemental. When support requests made to Samlink are handled quickly and reliably, the financial experts' time is better allocated to their own customers and not on managing service requests.
The solutio
n: Agile solution for a diverse environment
Samlink uses Efecte for its service production processes and monitoring and ticketing of support requests. With Efecte, lead time automation of resolving the issues enables optimization of work queues and workflows. The system helps to ensure that Samlink's customers receive a resolution to their problem within the timeframe specified in the service level agreement (SLA). In addition, Samlink's internal incidents, service requests, service orders, and IT asset management, for example, are managed using Efecte.

Efecte has a simple basic structure that can be customized according to the specific needs of the customer. However, Samlink has been able to utilize Efecte's workflow automation and other basic Efecte processes with very little modification. "Process flows are built in a very clear manner to the system. They are clearly thought through, and we have thus had little need to fine-tune them for our own additional solutions. With light customization, the system has been put into operation immediately", says Jukka Söderström, Samlink's Service Manager.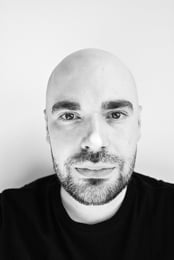 As one contact channel, Samlink's customers interact and operate through the Efecte self-service portal. Incidents, service requests, and various service orders are submitted in a comprehensive contact channel. Through the portal, customers can follow the ticket's progress in the work queue.
If the service request has been created or involves a chat between the customer and Samlink, the basic information collected in the chat is transferred to the ticket as additional information for the service desk agent. E-mails to Samlink's service desk are automatically generated as a ticket.

When all service requests are routed to a single system, the service quality remains high, and the metadata for service production development and reporting is coherent and consistent.
Artificial intelligence brings speed and consistency
When tickets are assigned and resolved, data on the service solutions is continuously accumulating. In the past utilizing the traditional know-how has required many years of experience. Efecte's Virtual Coach makes the best practices readily available to all solving the tickets. Virtual Coach is Efecte's AI solution that continuously analyzes the ticketing database, comparing the data in the open ticket to similar cases already solved. It suggests possible solutions and gives an estimation of how probable the suggestion is. With Virtual Coach, even the more rare problems don't keep the customer waiting too long. Onboarding of new service staff is easier as they get assistance from the Coach. Using the accumulated expertise in solving thousands of tickets each year, Virtual Coach saves Samlink a great deal of time.

Samlink's main users are supported by Efecte's own consultant, with whom development ideas can be discussed and iterated. "We have a good collaboration culture, and can challenge each other to find the best possible solution to the challenge at hand," says Söderström. "Bouncing ideas together always leads to a better outcome, and that benefits everyone - ultimately our customers."
Customer benefits:
Contacts on different channels can be easily routed to the same system
A significant amount of time is saved with Virtual Coach helping to solve over 100 000 issues annually
Simple user interface and good integration interfaces to advanced tools like chat, virtual coach, robotics
To learn more about how you can make more time for strategic initiatives and let the AI agent take care of the repetitive daily tasks see below.